Product Highlights
Quick Drying: hair dryer brush, powerful fast drying as well add volume and a smooth curly texture in a shorter time.
Overall Performance: Lightweight and comfortable size in control of the style of your hair, feeling more adept than other styling tools.
Massive Negative Ion: Negative ion is emitting to help eliminate frizz in hair drying, make your hair hydrated and full of life.
Relaxed Using Experience: The blow dryer brush gives a good massage with little softballs on the head, which is comfier and saves time than a regular hairdryer.
Safety Protection: This hot air brush meets US safety standards, It is supplied for 120V USA outlets ONLY. Please DO NOT use a Voltage Converter as it will damage the hair dryer brush.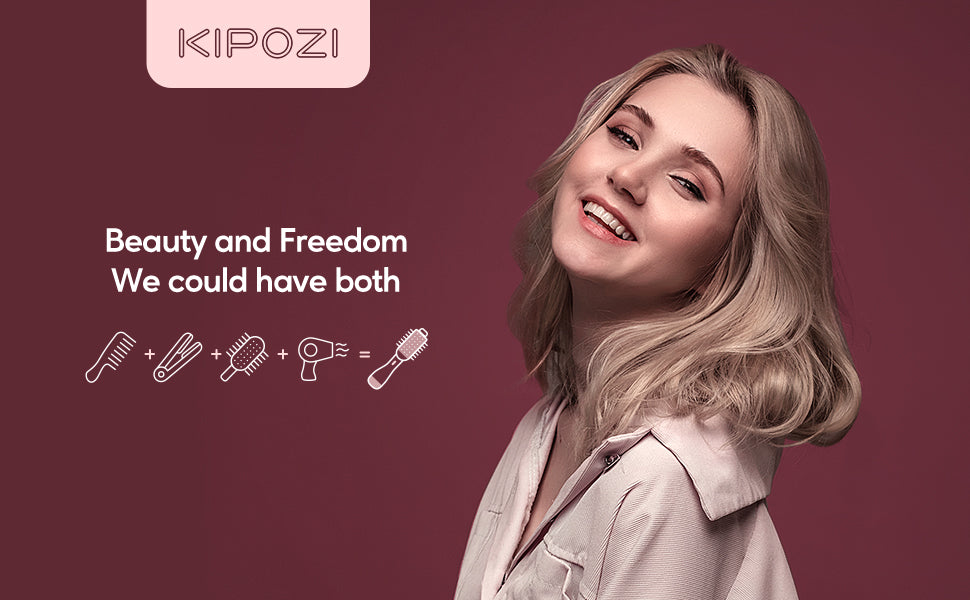 Styling Tips
Shampoo, rinse, condition and towel dry your hair.

Separate hair into manageable sections with the hair clips.

Natural straight hair looks: Place the hair dryer brush close to the roots of your hair and brush down toward the ends.

Gentle Curl looks: place the hairbrush under the ends and hold for 2 to 3 seconds before rotating.

Voluminous blowouts, place the hairbrush under the hair close to the roots and roll outward to the ends.

DO Not use a voltage converter.

Heat Setting: LOW/MIDDLE/HIGH

US Standard Voltage, US plug

Lighter Net Weight: 1.13pounds
 STORAGE


1. Make sure that the appliance is turned off; unplugged, and has cooled off.




2. Remove tangled hair with the included cleaning brush.




3. Do not store in a bathroom or any other humid environment.
Adjustable Mode
Freely adjust the temperature and wind speed for various types, meet different demands of all hair lengths and hair styles.
Massive Negative Ion
Lock moisture for hair to help eliminate frizz, keep your sleek texture not only for Salon Styling Result.
Relaxing Massage
By massaging your scalp, you can improve your blood circulation, which will result in healthier hair.
Goody Quikstyle Dryer Brush
Beginners a good helper, quick and friendly appliance, ease of use, enabling you from the beginning right to custom hair styling interest.

Appropriate Size
Portable weight and comfortable size, it is an ergonomic design that is practical and feeling more adept than other styling tools.

Newly Gift Package
Go ahead to select a special gift and share the blessing with your friends, family relatives, and loved ones.