216B 19XL - Rose Pink
Product Highlights
Extra-Long Barrel Curling Iron - KIPOZI 3/4 inch curling iron with clamp has 8.3-inch long barrel, which is more suitable for long and thick hair. The curling iron with a clamp is more convenient to use and fix your hair. The 0.75-inch curling iron is designed the generate tight and natural curls. You can get romantic and beautiful curls with it.
Adjustable Temperature 260℉-210℉ - KIPOZI 19mm curling iron has a nine-speed temperature setting and an HD LCD digital display showing the real-time temperature, which helps you adjust the suitable temperature to your hair type. The right temperature helps you protect your hair and create better results. In addition, there is a temperature lock function, it can avoid changing the temperature or close the small curling wand during use.
Less Damage -The special ceramic coating curling iron provides even heat to your hair, helping reduce hair damage, add shine and reduce frizz. The styling is completed in 60 seconds, the 3/4 inch curling iron is easy to use.
60S Complete Styling - Using our hair curling iron helps you get tight and natural-looking curls. Our Kipozi curling iron uses advanced heating technology, which can complete heating up in 30 seconds. You only need 60 seconds to get the romantic and pretty curls.
As a Gift - Our Kipozi curling iron is equipped with an exquisite box, which is an excellent choice for you or others; The dual voltage curling iron is specially designed for international travel. In addition, it comes with a 2m 360° swivel cord, sound reminder, and heat-resistant gloves.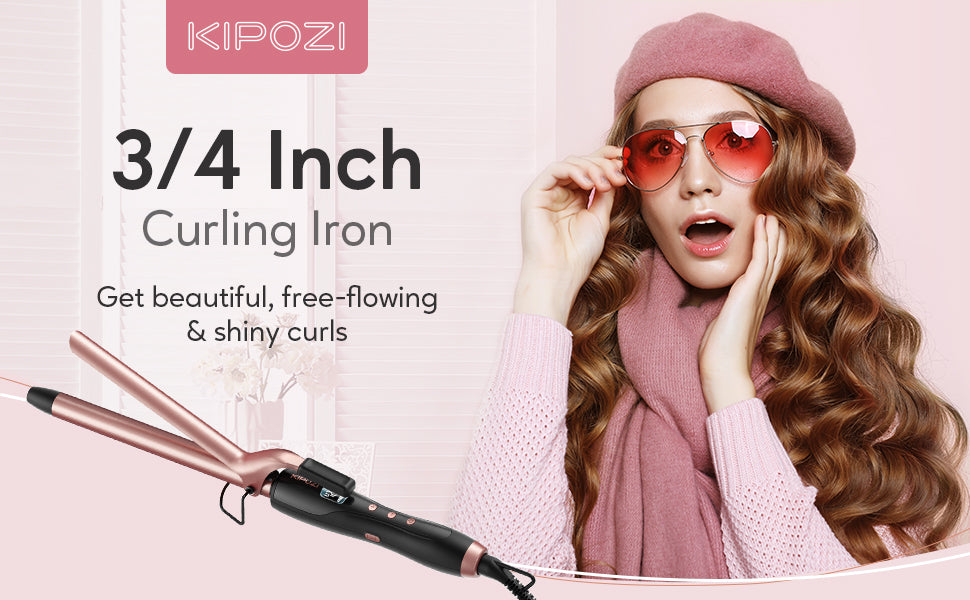 Features
Barrel Type: Ceramic
Barrel Size: 3/4 Inch
Barrel length: 8.3 Inch Extra Long
Display Type: LCD
Dual Voltage: 100-240V
Temp Setting: 260-420℉
Power Cord: 6.6ft 360° Swivel Cord
Why Should You Choose Our 3/4 Inch Curling Iron:
8.3 inch - more suitable for long hair.
Adjustable Temperature Setting(260-420℉):
Adjust the temperature which is suitable for your hair type.
Temperature Setting Lock:
Look at the current temperature.
30s Instant Heat up Saving a lot of time.
Create More Shiny and Less Frizz: Ceramic curling iron helps you reduce frizz and add massive shine.
Dual Voltage Curling Iron (100V-240V): Automatically identify voltage and adjust, no need to adjust anything.
Extra Long Barrel
It is suitable for short, medium, and long hair.
If the barrel is not long enough, it is difficult to use for long hair.

100-240V Worldwide Voltage
Dual voltage curling iron (100-240V)
Automatically identify voltage and adjust, no need to adjust anything.

Temperature Setting Lock
It prevents any inadvertent increase or decrease in the temperature during using our 19mm curling iron.
Adjustable Temperature Setting (260℉ - 420℉)
If you have different hair types (thick, thin, fragile, damaged, colored, healthy) or different hair lengths (long, medium, or short),
you could set a suitable temperature that could protect your hair and achieve a better hairstyle.

60Min Auto Off
Our thin curling wand could automatically shut off after 60 minutes without use.
It is a safe hair styling tool for you.

Sound Reminder
It is for every operation in our curling wand.
A sound will be audible to remind you that your operation has been completed.